NOTED ATLANTA BALLET DANCER AND CELEBRITY DJ ANNE-TYLER JOINS ENJOYMUSIC ENJOYLIFE MUSIC CLOTHING BRAND.
ENJOYMUSIC ENJOYLIFE, A CREATIVE MUSIC LIFESTYLE FASHION BRAND RELEASES BOLD NEW DESIGNS AND A POWERFUL MESSAGE.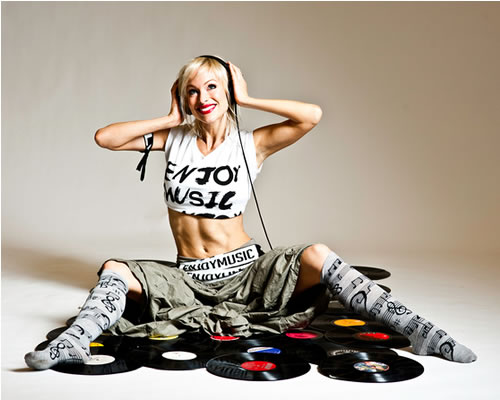 Ask any musician, DJ or music lover and they'll affirm that music enriches and impacts their lives in the most powerful and influential way. Innovators and appreciators alike agree that music profoundly enhances the quality of life. From symphonies to dance clubs and vibrating warehouses to performing arts center stages, whether you're a non-stop dancing machine or a laid-back listener, the universal language of music is an unequivocal expression of the good life.
This notion is the motivating force behind the creation of ENJOYMUSIC ENJOYLIFE, a fashion forward movement with a message founded by longtime music lover and promoter, Tunde. The brand is the manifestation of his lifelong passionate love affair with music. It is a belief system designed to spread the celebration of positive living through music. Joining his side is professional ballerina/DJ Anne-Tyler Harshbarger. Her parallel infatuation with music puts the dynamic duo in perfect harmony.
The coveted EMEL logo symbolizes that the coolest people we know are musicians, Djs and music lovers. Who comes to mind when you think of the coolest people you know? ...Exactly.
Already making soundwaves amongst the aforementioned creative class, the indie clothing line was voted 'Best music t-shirt brand' back in 2005 and the relaunch of the collection complete with new designs and colorful, contemporary styles is striking a chord with music lovers universally.
Do you ENJOYMUSIC ENJOYLIFE? Do you want to exhibit the message and attract like-minded individuals? If you want to look good, feel good and be an ambassador for a life filled with rhythm and love, dance to the beat of the EMEL drum. Join the movement!
For more information and to purchase ENJOYMUSIC ENJOYLIFE music clothing visit www.enjoymusic.com
Facebook: http://www.facebook.com/djannetyler
###